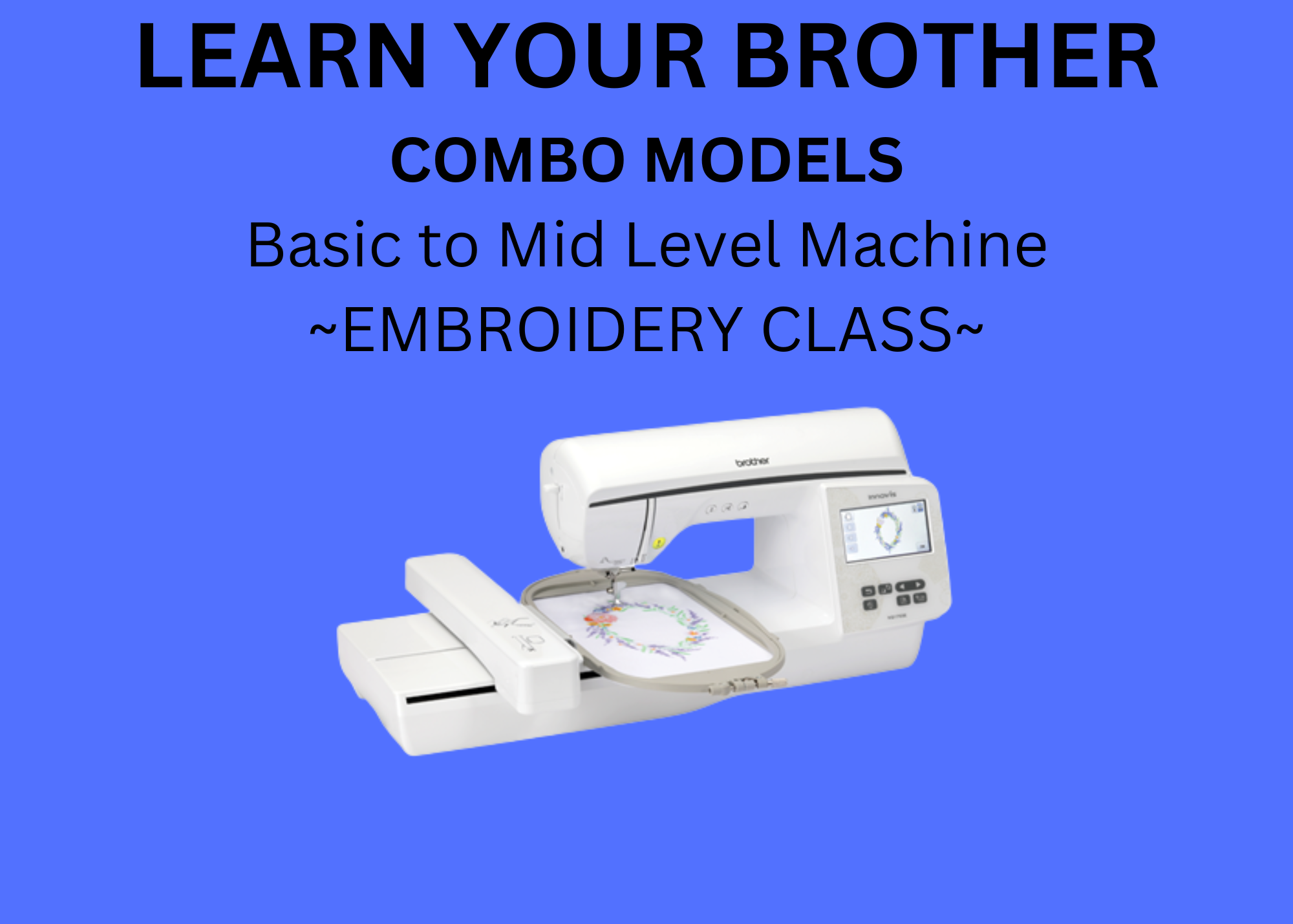 Brother - EMBROIDERY Operations Class for owners of Brother Models NS1150E, NQ3600D, NS1750D, NS2750D, NQ3600PRW, NQ1600E, NQ1700E. If your machine is not listed please contact 480-545-0778 to see which class is available for your model.
This is Embroidery only for the Afternoon. Combo Sewing & Embroidery machines sign up for the sewing morning class. Please sign up for that class in addition.

Location: Mesa Clubhouse


PLEASE NOTE THIS CLASS IS ONLY FREE WHEN YOU BUY THE MACHINE FROM US! IF YOU DIDN'T PURCHASE IT AT MULQUEEN'S YOU WILL BE CHARGED A CLASS FEE AT THE TIME OF CLASS


This class is an introduction to the embroidery functions of your machine.

If you have models Brother NS2750D or NQ3600D this will be an all day class for you starting at 10:00 AM

If you have models NS1750D, NS1150E, NQ1600E, NQ1700E, NS2750D, NQ3600D then your class will begin at 1:00 PM.
Please bring to class the following:

For Models NS2750D & NQ3600D


Machine
Manual
power cord
embroidery arm
Bring all of the feet that came with your machine
hoops that came with your machine
a spool of embroidery thread
embroidery bobbin (filled)
a small pair of scissors
If you have models NS1750D, NS1150E, NQ1600E, NS2750D, NQ3600D


Machine
Machine feet that came with your machine
power cord
Foot Pedal
Bobbin (filled)
Sewing thread
small scissors
PLEASE ALSO BRING A COPY OF YOUR PAID INVOICE FROM WHEN YOU PURCHASED YOUR MACHINE.
If you purchased your machine from Mulqueen Sewing Centers the cost is free to attend owner operations classes. If you purchased it elsewhere, there is a $30 charge to attend.
Class and Club Policy
Class and/or Club fees are required at the time of registration. Reservations will only be accepted at time of full payment. If you need to cancel a class, we must be notified a minimum of five (5) days in advance of the class. At five days, we guarantee the attendance to the teacher so she can prepare for the class. There will be no class refunds or credits given after that time period. We reserve the right to cancel a class if we do not have the minimum number of students the teacher requires. If that happens, a full refund or credit will be given. Please read over the supply list for the class completely to see what preparations or special products are needed for the class. Purchase your supplies prior to the class unless the supply list indicates differently.
Please refrain from wearing scented sprays and lotions when attending classes and clubs.
| | |
| --- | --- |
| Skill Level: | Beginner |
| Skill Details: | |
| Instructor: | Kathy |