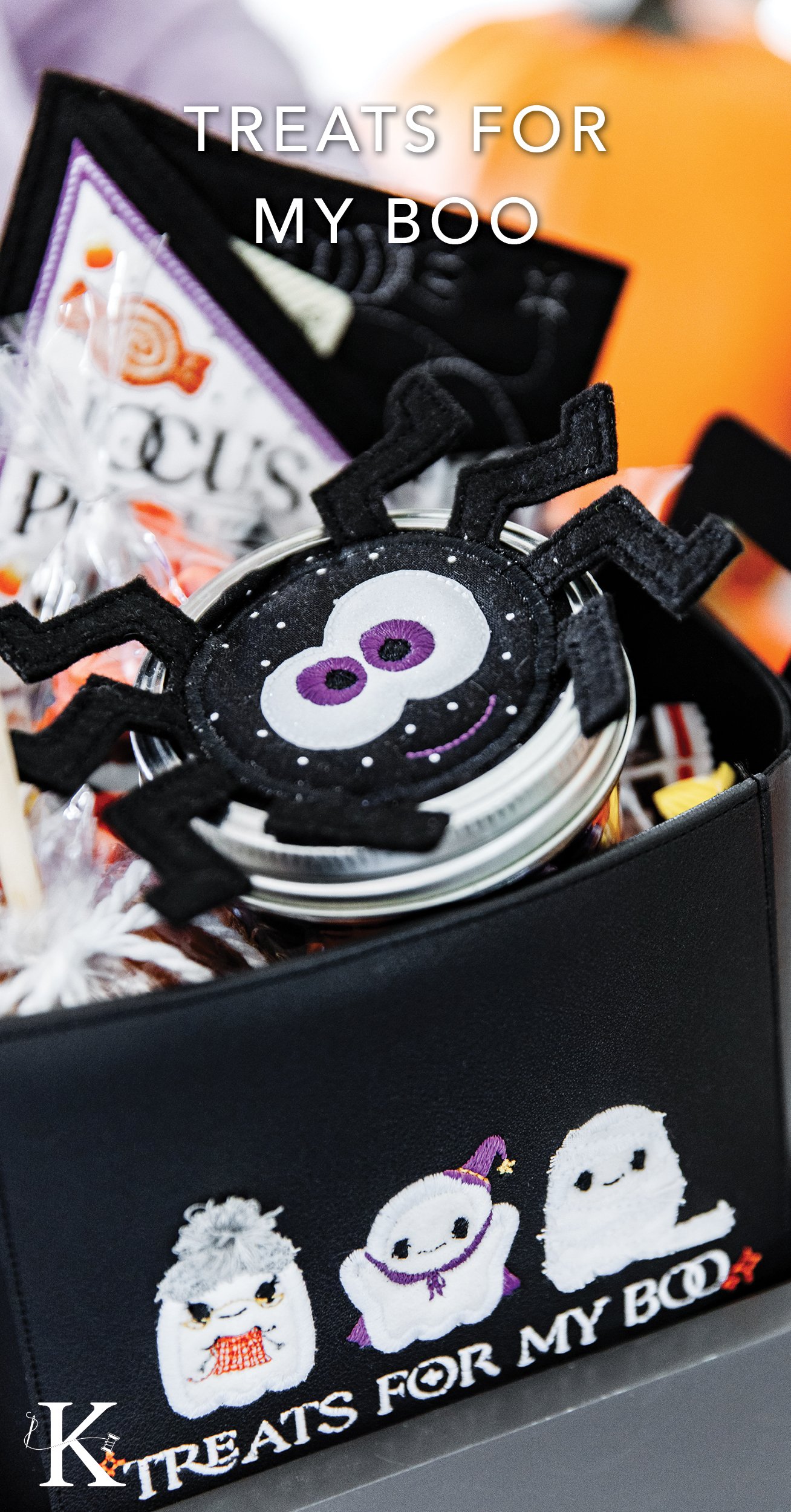 Want to have a "spook-tacular" creative experience? Attend Kimberbell's Treats For My Boo event and make three enchanting projects: the Spooky Spider Jar Topper, Hocus Pocus Gift Pocket, and the Treats For My Boo Tote!
Treats For My Boo is so much fun, it's almost scary. 😊 Let's take a closer look at Kimberbell's newest one-day machine embroidery event!
Event Projects
Below are the three projects you'll make at Treats For My Boo. All are made in 4x4 and 5x7 hoops!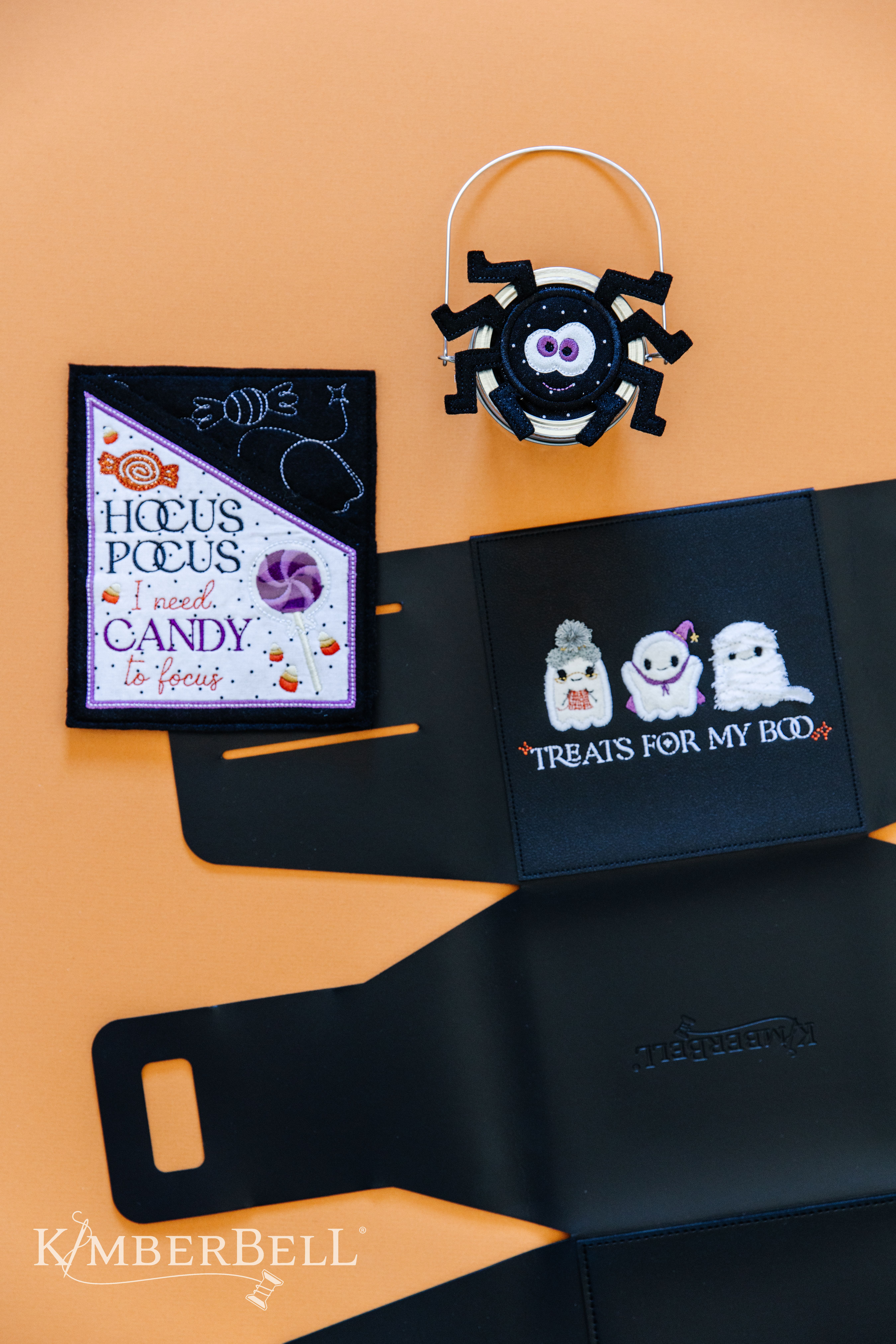 Did you notice the collapsible Black Leather Tote? (We'll talk more about that later!) For now, let's take a closer look at the individual projects.
Hocus Pocus Gift Pocket
Our bewitching Hocus Pocus Gift Pocket is perfect for Halloween surprises with exclusive quilting, Applique Glitter treats, and a sucker wrapped in Sweet as Candy Vinyl.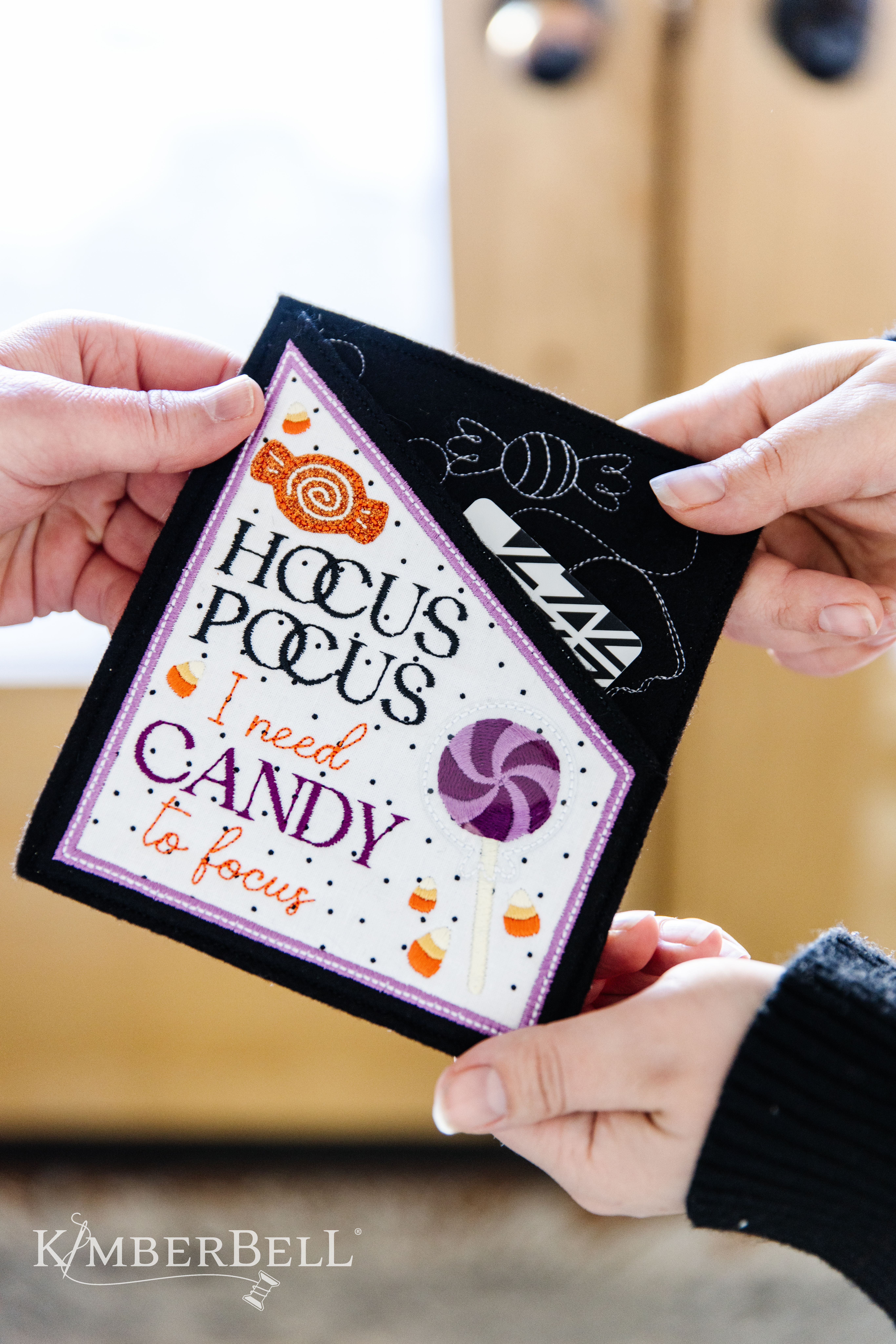 Can you picture giving this pocket to a teacher, neighbor, or friend?
Spooky Spider Jar Topper
Top jars of goodies with a Spooky Spider Jar Topper! Available in two sizes for regular and wide-mouth jars, our creepily cute spider features a poof of Kimberbell Flexi Foam.
You'll make the regular size while at the event, then go home with the wide-mouth size to stitch later.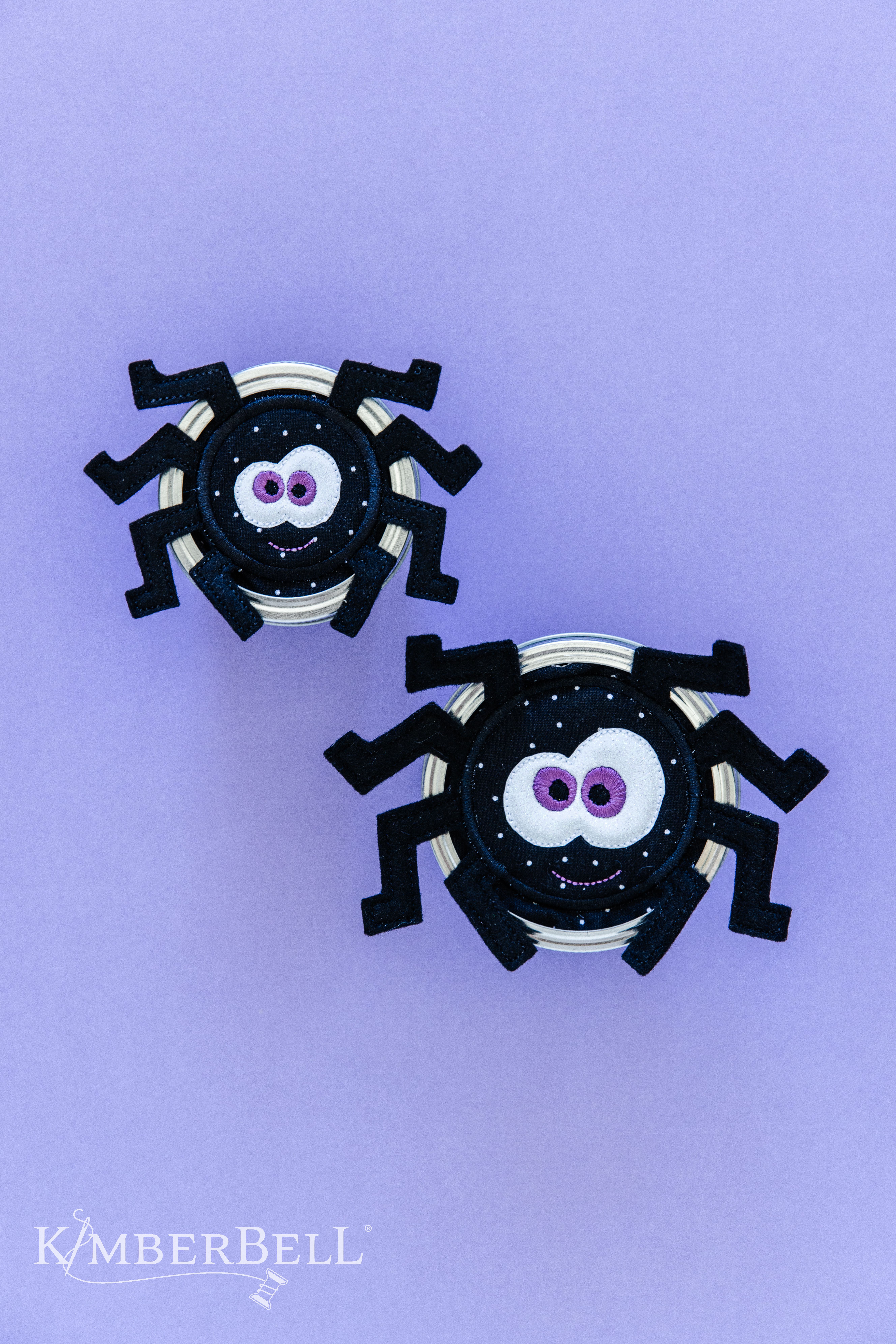 But that's not all. You'll ALSO go home with an alternate design: the Scaredy Cat Jar Topper (also in two sizes)! Take a look...
Scaredy-Cat Jar Topper
Again, this design is NOT stitched at the event. It's an extra design you'll go home with and enjoy another time.

Treats For My Boo Tote
Store candy, supplies, and more in our Treats For My Boo Tote! Easy to fold and assemble, our Black Leather Tote measures 6 x 6" and features friendly ghosts and a sweet sentiment.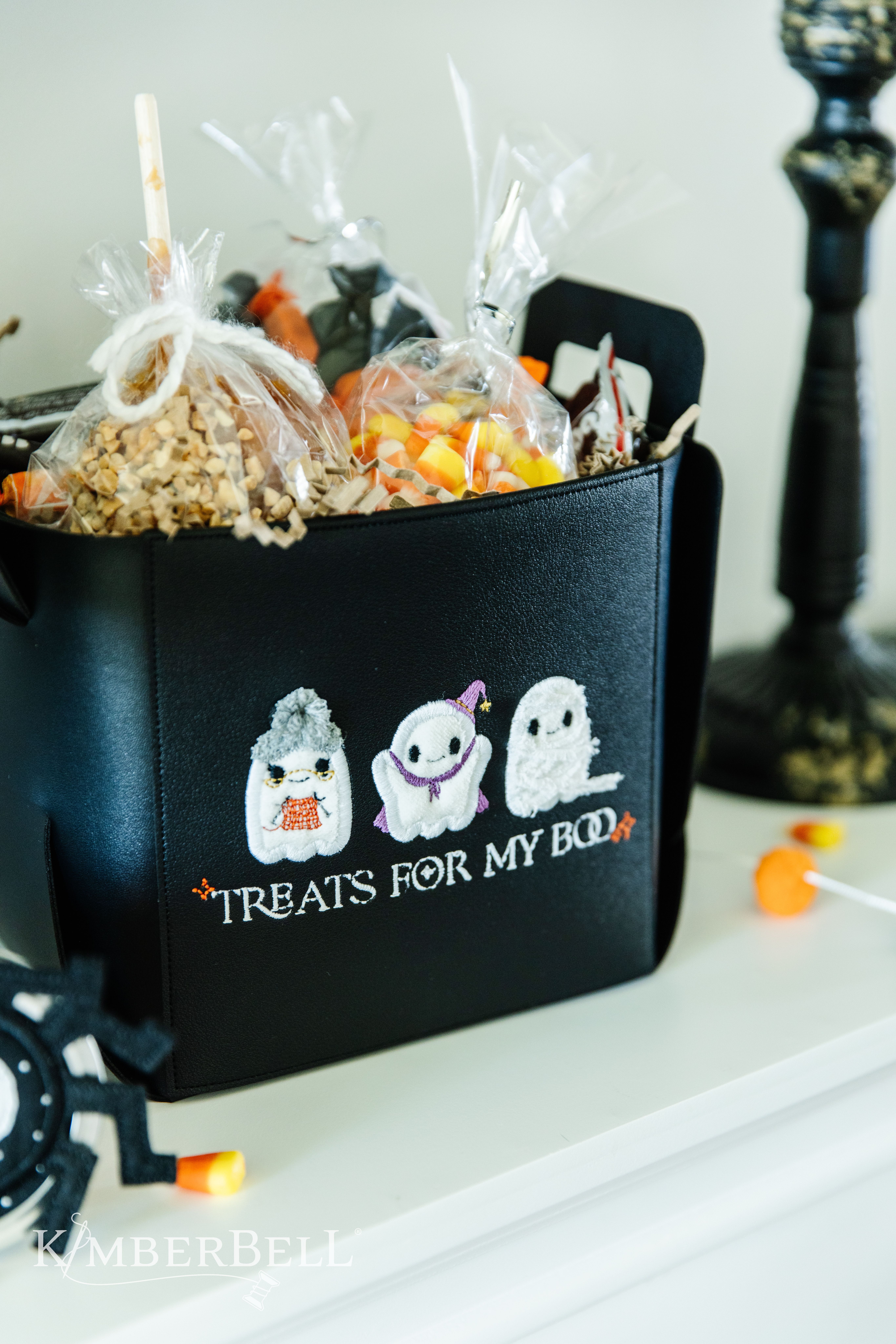 Boo-tiful Techniques
Each ghost on the tote features a different technique. Grandma ghost has a fringed bun, the middle ghost is Velveteen applique, and the mummy (shown below) is made with fabric strip applique!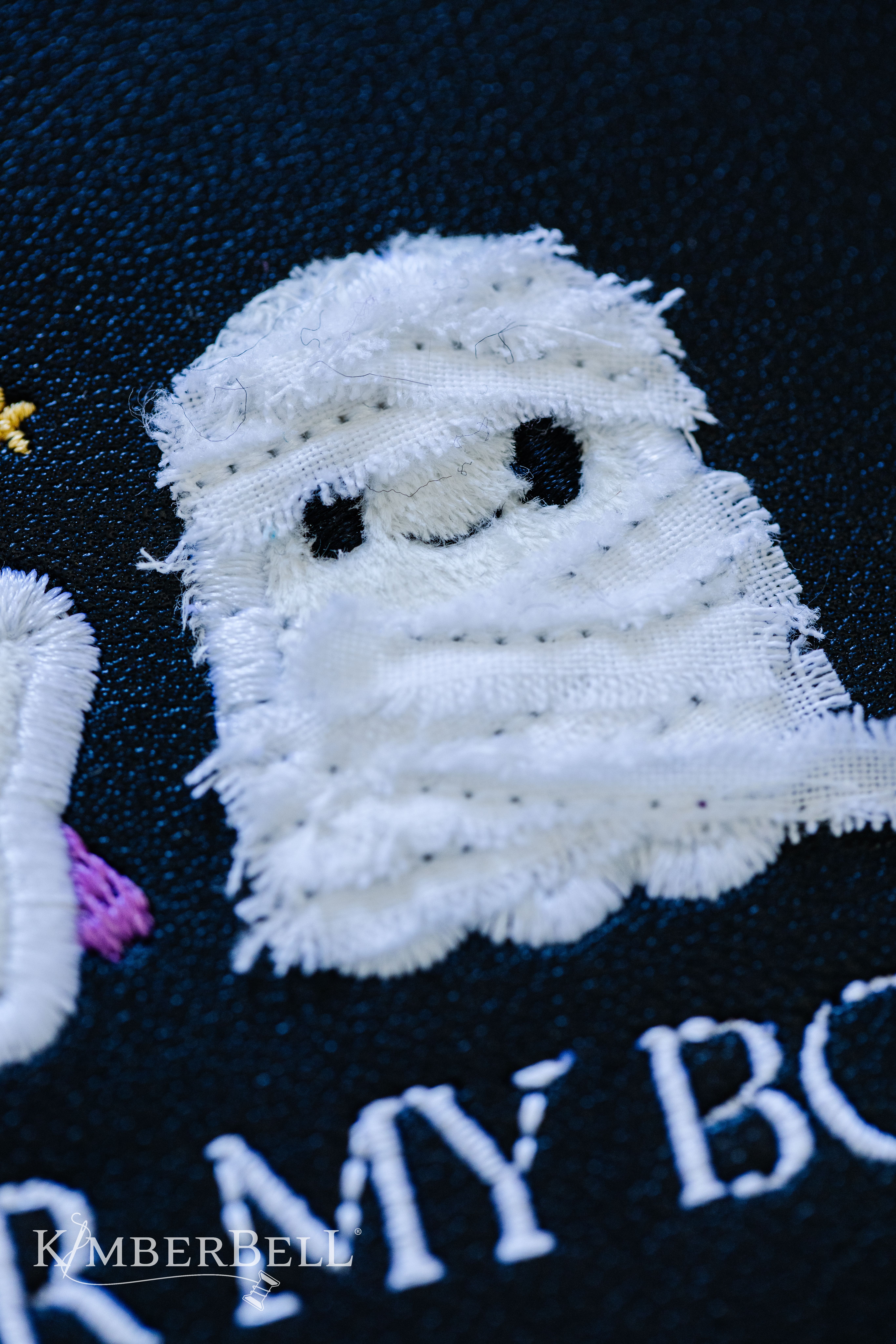 Ghosts simply don't get any cuter than this, folks. 👻
Attendee Project Kit
Your Treats For My Boo Attendee Project Kit includes everything you need to complete ALL event projects: step-by-step instructions, embellishments, fabric kits, the collapsible Black Leather Tote, and even a 4 oz. jar!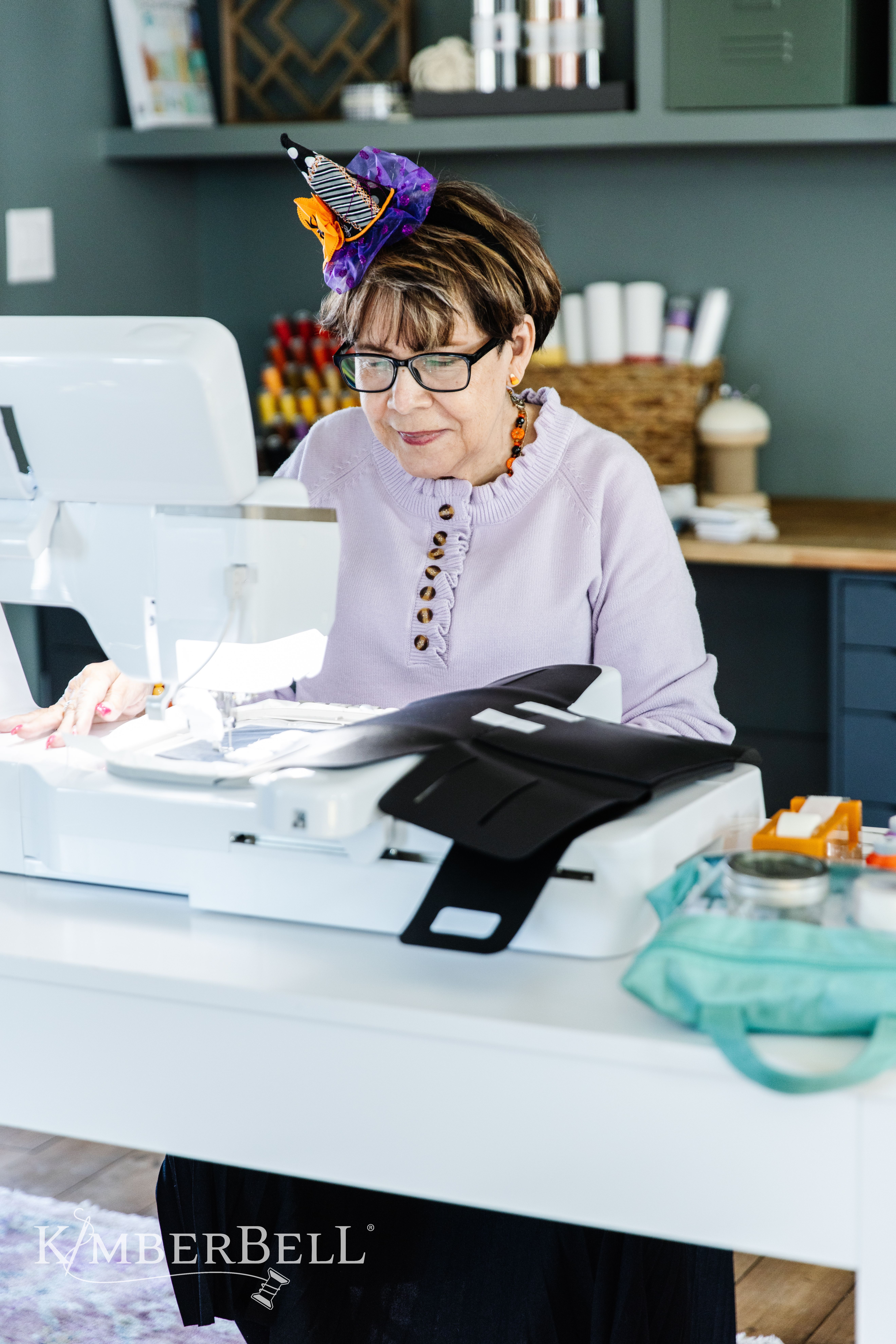 See how that Black Leather Tote is nice and flat and hoopable? After adding the embroidery design, you'll quickly and easily put it together. 😀
Event Bonus CD: Spooky Sentiments
One of the perks of attending a Kimberbell Event is the opportunity to earn the event's exclusive bonus CD. Here's how it works: when you spend $100 (or more) in the Kimberbell Popup Shop while at the event, you'll earn the FREE bonus CD, which you simply can't get anywhere else.
The Bonus CD for Treats For My Boo is called Spooky Sentiments. Take a look!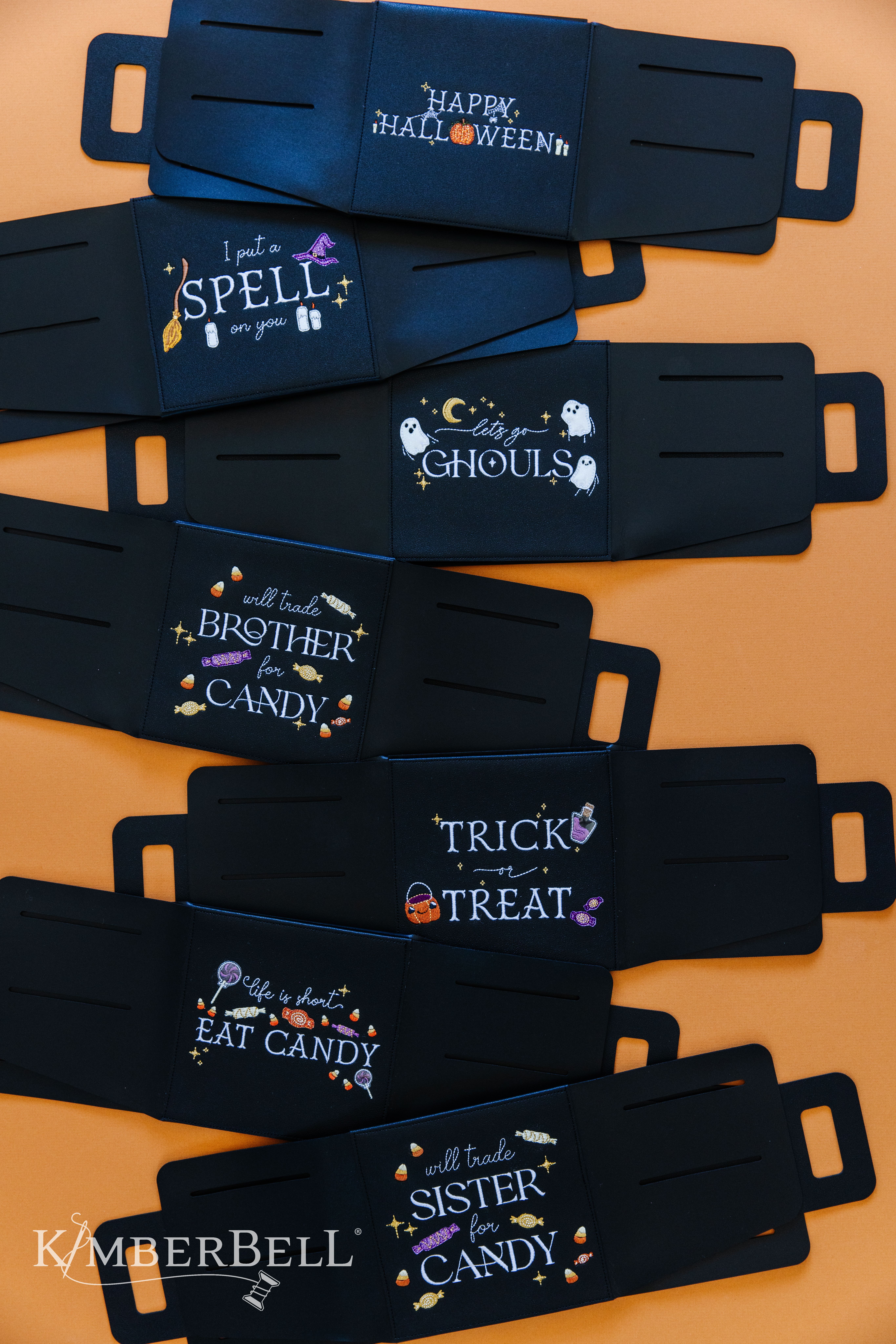 This Bonus CD features seven spellbinding designs: Will Trade Brother For Candy, Will Trade Sister For Candy, Let's Go Ghouls, Trick or Treat, Happy Halloween, I Put a Spell on You, and Life is Short, Eat Candy.
Stitch on Black Leather Totes (as shown above) or on tea towels, bags, aprons, and more! Each design can be created in a 5x7 machine embroidery hoop.
To keep our price low, we are requesting you bring a lunch.


We encourage you to register early as class size is very limited.



This Event will be held at the Glendale Store - 7838 N 59th Ave.
Phone 623-934-0084.
The instructors for this event will be Margie & Tammy.